All Pieces Fit
Therapists Help Families Living With Autism Put Pieces into Place
Brandi Smith and husband Jamaal are striving to provide a safe and stable environment for not only children who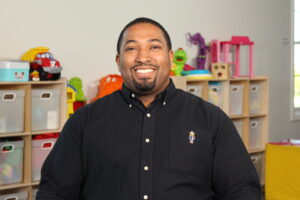 have an Autism Spectrum Disorder, but also their families.
They opened All Pieces Fit in Merrillville in 2017 to serve community members who have an Autism diagnosis and need guidance on next steps for the best possible outcomes of growth, development, independence and happiness.
"I love the idea of helping others and being able to provide a safe and stable environment. I've worked at other places in this very field, and I can say that I enjoy most being able to see lives change for the better and know that I am a huge part of that," Brandi said.
"I love serving people and assisting people find their happiness. I love being the provider of quality services. It brings me joy when I can see the outcomes."
As the Clinical Director, Brandi is driving the programming in order to offer individualized attention for personal development. She puts Applied Behavior Analysis into place as the treatment that guides positivity and productivity for each and every individual. This type of therapy is rooted in the science of learning and behavior.
Her team of therapists works with individuals and their families to create a space with fewer behavior problems and more completion of everyday tasks as well as a boost in social and communication skills.
Brandi said being humble is a vital part of her success as an entrepreneur.
"I am so appreciative of my staff and my families, and I'm honored to work with them all. Also, listening to your audience is really important," she said. "Despite how you believe things should go, you have to cater to the needs of everyone around you, of course within reason.
"In addition to all of that, being organized and calculated especially when making decisions. Weighing the pros and cons and understanding how your decision can affect everyone is so important. It's not just about you. The bigger picture is important."
Brandi and her team have continued to grow after pivoting during the pandemic and continue to work with even more families while offering ways for her staff to recharge after a difficult session.
She advises new entrepreneurs to have a plan and lots of patience.
"Everything doesn't happen overnight, and nothing is ever going to be perfect. Seek help in areas that you aren't familiar in, and always be open to change. Network with individuals in your position and learn from them. You don't have to do everything they are doing, but everything is a learning opportunity."
All Pieces Fit
8401 Ohio St. in Merrillville
219-525-4572
www.allpiecesfit.com